Vice Provost Kathy Van Laningham
Vice Provost Kathy Van Laningham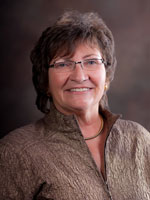 Kathy Van Laningham serves as the vice provost for planning for the University of Arkansas. Kathy reports to the provost and vice chancellor for academic affairs. In this position, she has responsibility for managing budget and personnel issues in the Provost Office as well as providing support to the provost on a range of academic and fiscal issues. She also provides support to the chancellor on data collection and analysis.
Prior to joining the university, Kathy served as the senior assistant for education for Governor Bill Clinton (1988-92). In this position, she was liaison with higher education, public K-12 education, the educational television network, the State Library, the Arkansas Schools for the Deaf and the Blind, and the Arkansas General Assembly. She represented the governor and the first lady on a number of national and regional commissions on education issues, including the National Commission on Testing and Public Policy, Southern Regional Education Board, and the National Educational Renewal Consortium.
Prior to her appointment on the governor's staff, Kathy served as a policy analyst for the Joint Special Oversight Subcommittee on Educational Reform of the Arkansas General Assembly (1986-87). In this position, she was responsible for developing educational programs and reforms at the state level and making presentations to national groups such as the National Conference of State Legislatures, the Education Commission of the States and the Southern Regional Education Board. The work of this subcommittee led to the establishment of the Office of Accountability in the Arkansas Department of Education. In this capacity, Kathy also played an advisory role to the Carnegie Commission on the Advancement of Teaching in its study of higher education in Arkansas and to the Arkansas Business Council in its report on the status of education in Arkansas.
Before joining state government, Kathy served as a special assistant to the president of Arkansas Louisiana Gas whom Governor Clinton appointed to chair a task force on school financial management (1985-86). The task force researched key financial issues facing small schools in Arkansas as they began implementation of the new education standards.
Kathy earned her doctorate in English at the University of Arkansas in 1986 with her major field of study being restoration and eighteenth century British literature. Her dissertation is a translation and annotation of the Memoirs of Grammont. After earning her doctoral degree, she held teaching appointments at Philander Smith College and the University of Arkansas at Little Rock. Kathy is a native of Paragould, Arkansas. She and her husband Scott have one son.
Office: 479-575-5910
Fax: 479-575-7076