Vice Provost Ro Di Brezzo
Vice Provost Ro Di Brezzo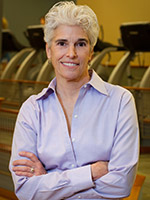 Ro Di Brezzo currently serves as vice provost for faculty affairs and professor of kinesiology. Her career at the University of Arkansas started in 1983, when she came on as an assistant professor of physical education. Since then, she has served as program chair and interim department head for the Department of Kinesiology, director of the Human Performance Laboratory, and co-director of the Office for Studies on Aging. In 1992, she co-founded the Teaching and Faculty Support Center. From 2012-2013, she served as vice provost for academic affairs. From 2014-2017, she served as vice provost for faculty development and enhancement.
She has been very active on faculty committees, serving as a member of the Faculty Grants and Awards Committee from 1989-1993, the Faculty Grievance Committee from 2004-2007, and the Senior Faculty Advisory Committee from 2010-2012. She chaired the College Faculty Council from 1998-1999 and the Excellence in Teaching Committee from 1995-1997.
Dr. Di Brezzo has received many awards from the College of Education and Health Professions as well as the University of Arkansas for her research and teaching. These awards include: the Outstanding Mentor Award in 2011, awarded by the Office of Nationally Competitive Awards; the Academic Excellence Award, awarded by the University of Arkansas Department of Intercollegiate Athletics in 2008; and the Baum Faculty Outstanding Teaching Award in 1999. She has also been nationally recognized for her contributions by the American College of Sports Medicine who invited her to be a fellow in 2012.
As a biomechanic Dr. Di Brezzo's research expertise includes performance variables for women. She has been twice awarded the Research Award from the Southern Academy of Women in Physical Activity, Sport, and Health.
Office: 479-575-2151
Fax: 479-575-7076